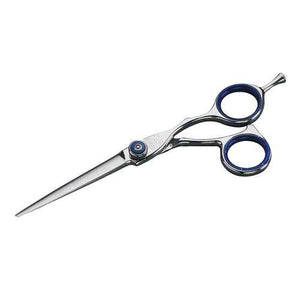 title="Kiepe Scissors Blue Fire 227/5.5 - Ozbarber">
Kiepe Scissors - Blue Fire series
In manufacturing its products, KIEPE has a precise objective: constant research in the field of materials, finishing, ergonomic forms and production technologies to satisfy, with its products, the different personalities you express working with professionalism and passion for people's beauty and health. Your talent is our inspiration, your requirements our work.
 CHARACTERISTICS:
Size: 5.5'' (14 cm)
Edge: convex slide cuting
Shape: Offset
Material: Japanese steel 440C with a high carbon
Ice-tempered in checked atmosphere.
Grips of light metal pressure, die-cast to the blades for a better scissors balancing.
Line emphasizing freedom of movement and haircut technique
Hardness equal to: 59-61 HRC,
Finger Rest
Free Australia wide delivery on order over $30
The Kiepe Scissors Blue Fire 227/5.5 destined to impress, and priced at only
$150.00
, for a limited time.
Inventory Last Updated: Oct 03, 2023