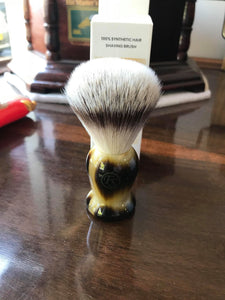 title="Frank Shaving Synthetic Faux Horn Shaving Brush SYS20-FH10 - Ozbarber">
A sleek black body and attractive silvery head make this brush great to look at and even better to use.
The Faux Horn handle is smooth and durable; it won't rust or break easily. The strong synthetic badger's hair brush delivers even lather coverage, all the while removing underlying dirt and dead skin.
An excellent investment that will continue to work its magic for years to come.
DETAIL
Hair- Sythetic fibers
Knot- 20mm
Loft- 50mm
Handle Height- 45mm
Overall Height- 95mm
MATERIAL
Faux horn handle
Synthetic hair
Free Australia wide delivery on order over $30
Every product is unique, just like you. If you're looking for a product that fits the mold of your life, the Frank Shaving Synthetic Faux Horn Shaving Brush SYS20-FH10 is for you.

Inventory Last Updated: Dec 09, 2023