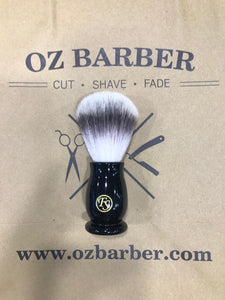 title="FRANK SHAVING FAUX EBONY HANDLE SYNTHETIC SHAVING BRUSH - Ozbarber">
This Synthetic shaving brush features a 20mm knot of Generation 4 synthetic silvertip fiber.  The measurements are as follows:
Hair- Sythetic fibers
Knot- 21mm
Loft- 54mm
Handle Height- 51mm
Overall Height- 105mm
A synthetic shaving brush of surprising quality given the cost.   Frank Shaving brushes are manufactured in China – the source of where the world's Badger hair supply comes from.  Cutting out the middle man companies means the savings gets passed on to the consumer.   The handles are lathe turned from solid acrylic – just like brushes costing 2-3 times the price.
Free Australia wide delivery on order over $30
Every product is unique, just like you. If you're looking for a product that fits the mold of your life, the Frank Shaving Faux Ebony Handle Synthetc Shaving Brush is for you.

Inventory Last Updated: Dec 08, 2023