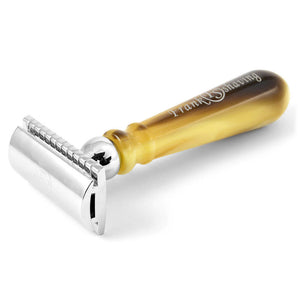 title="Frank Shaving Buffalo Safety Razor DE-05FH - Ozbarber">
Frank Shaving's Safety Razor is designed for any budget conscious guy just starting out in the world of wet shaving. A value option that still offers ease-of-use along with good results.
This gorgeous safety razor comes from Frank Shaving, makers of high quality shaving accessories for the modern man. Features a closed comb head to protect your skin and ensure an even shave. The handle is made from faux horn in stunning shades of brown.
Length: 11.2 cm
Head length: 4cm
Head width: 2.4cm
Weight: 65g
Free Australia wide delivery on order over $30
The Frank Shaving Buffalo Safety Razor DE-05FH is the yin, to your yang. You've found what you're looking for.

Inventory Last Updated: Dec 06, 2023