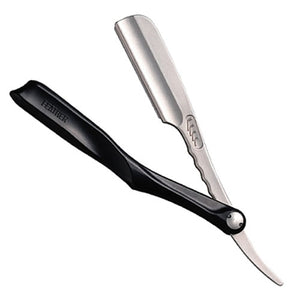 title="Feather Professional Artist Club SS Razor - Ozbarber">
Professional grade straight razor from Feather

Replaceable blades mean no stropping or honing

Handle (scales) comes in black, lime, or wine
For top-of-the-line quality and exceptional sharpness, you can't beat a Feather razor. For almost a century, this Japanese company has be crafting tools for cosmetic, grooming, and industrial use. With the Feather Artist Club SS Razor, you will soon see why they are the choice for professionals around the globe. Try Feather Artist Club SS Razor, Black (lime or wine, too).
Made of SUS317 stainless steel, this razor enables smooth shaving. The rounded head gives optimal blade exposure and a "soft" shave experience. The roundness pushes down gently on the skin to disperse pressure at the tip, making the shave less damaging. And you can keep your shave sharp by changing out the blades. No stropping or honing with this shavette-type tool. Just pop in a new blade with every new client or new day. Simply pinch the head and the blade will drop out. Changing blades is quick and easy.
The enamel handle is made from a synthetic resin that resists heat up to 275*F. And the razor folds to nest the blade in the handle for safety and protection for the blade. The utensil can be disinfected by either boiling or ethanol (don'´è_´è____´è_´è__´è_´è___t use "sodium hypochlorite") and the entire thing can be dismantled for a deep clean.
This Feather favorite replaces the very popular "Artist Club RG" straight razor. The scales (handles) are significantly refined and more ergonomic than the previous RG. It is perfect for the gentleman who desires a straight razor shave without the straight razor maintenance.
You can choose from four different blades (Professional, Super, and Pro-Guard).
Size:
Handle length 4.72in/119.9mm

Razor blade length 1.93in/49.11mm

Full length closed 5.93in/150.7mm
Made in Japan
Free Australia wide delivery on order over $30
Life is too short to live without the Feather Professional Artist Club SS Razor Black. Be happy. Be Content. Be Satisfied.

Inventory Last Updated: Dec 06, 2023