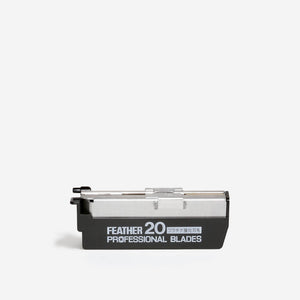 title="Feather AC Professional Blade 20 pack - Ozbarber">
Feather Professional razor blades are designed to fit the Feather Artist Club Razors. Manufactured to the highest standards and designed for professional use, you can expect them to provide the closest and smoothest shave possible. Blades are packed in their own injector-style dispenser for fast, easy, and safe blade installation and convenient storage. Made in Japan.
HOW TO USE
Carefully remove a blade from the dispenser and slide into the razor holder. Be sure the blade sets level before releasing, as blades not level can cause injury.
RECOMMENDED FOR
Straight Razor, Cut Throat Razor, Cut-throat Razor, Open Razor, Traditional Shaving, Wet Shaving.
Free Australia wide delivery on order over $30
The Feather AC Professional Blade 20 pack is evocative, to say the least, but that's why you're drawn to it in the first place.

Inventory Last Updated: Dec 06, 2023