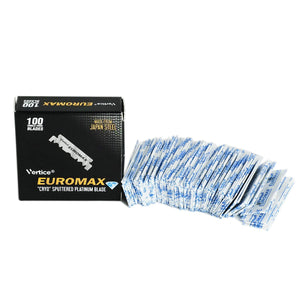 title="EUROMAX PROFESSIONAL SINGLE EDGE RAZOR BLADES (100) - Ozbarber">
Each pack contains 100 individually wrapped blades. 

High Quality:- made from Japanese Steel, and platinum coated for optimum Edge Strength and longer blade life

Single Edge:- fits all type of straight (cut throat) razors, used by professionals and home users alike. 

Product of Dubai:- Product of Euromax Personal Care group, manufactured in India.
Free Australia wide delivery on order over $30
The Euromax Professional Single Edge Razor Blades (100) was built with people like you in mind. Something to keep you happy. Every. Single. Day.

Inventory Last Updated: Sep 25, 2023