title="DUKE CANNON SHAMPOO PUCK - FIELD MINT - Ozbarber">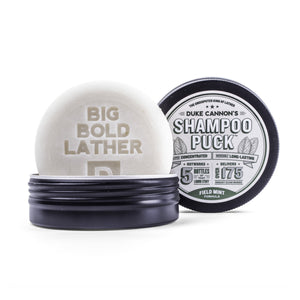 title="DUKE CANNON SHAMPOO PUCK - FIELD MINT - Ozbarber">
In the history of lather, there has never been a more important moment than right now. Duke Cannon, the Undisputed King of Lather is ushering in a new age of lather with the launch of our Shampoo Puck, a super-concentrated, premium formulated, solid bar of shampoo that smells better and lathers bigger than the rest.
Weighing in at 4.5 oz., they're built to outlast multiple bottles of that liquid stuff without leaving any plastic residue behind. Packed full of essential oils, naturally derived fragrances, and big, bold lather. 
How It Works:
Get it a little wet
Use the hands to work up a ridiculous lather
Indulge in said lather while you clean and condition your locks
PRODUCT SPECS: 
Naturally derived fragrance: eucalyptus peppermint 
Tea tree oil to stimulate scalp
Outworks 5 bottles of liquid stuff while delivering over 175 washes
Argan oil conditions hair 
Oat kernel protein for strength
Sulfate-free
Size: 4.5 oz. 
Free Australia wide delivery on order over $30
The Duke Cannon Shampoo Puck - Field Mint destined to impress, and priced at only
$26.99
, for a limited time.
Inventory Last Updated: Dec 06, 2023