title="Dovo Straight Razor Tortoiseshell Special 5/8 - Ozbarber">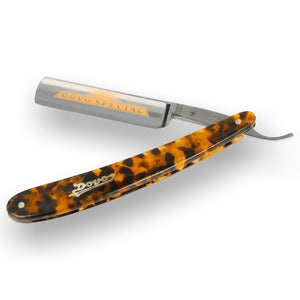 title="Dovo Straight Razor Tortoiseshell Special 5/8 - Ozbarber">
The Dovo "Special" Faux Tortoise Round Tip 5/8" straight is one of Dovo's most popular models. The blade is forged high carbon steel with a hollow grind and a 24k gold etch of the brand. The handle is inlaid with the Dovo logo in sterling silver. The blade and handle are balanced for a great shave.
Size: 5/8"
Material: Carbon steel
Grind: Full Hollow
Scales: Faux Tortoise 
Markings: Inlaid Dovo logo in sterling silver. Gold etched blade.
Made in Solingen, Germany
Free Australia wide delivery on order over $30
The Dovo Straight Razor Tortoiseshell Special 5/8 is far and away, one of our most popular items. People can't seem to get enough of it.

Inventory Last Updated: Sep 25, 2023