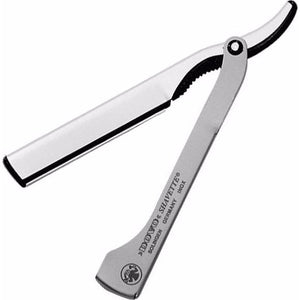 title="Dovo Solingen Shavette Straight Razor Stainless Steel Handle - Ozbarber">
The Dovo Solingen Shavette Straight Razor uses disposable blades, so there's no need to purchase a hone, strop or any of the other gear. Because it's virtually maintenance free, it's well suited to those who are just starting out, travel regularly or don't want the difficulty and expense usually involved in caring for a traditional straight razor. When the blade gets dull, just remove it and insert a new one. Features a satin stainless steel handle and polished stainless steel shank for lightweight durability. 
Includes a Clear Sleeve, Black Sleeve, one Double Edge Blade and one Long Dovo Shavette Blade to get you started. Made in Germany by Dovo Solingen.
How to use:
Carefully slide the sleeve out of the aluminum shank by pulling gently on the far end. Snap your blade in half, open the sleeve and position the blade so that the holes line up with the notches in the sleeve (if positioned correctly, the blade should protrude slightly). Squeeze the sleeve closed making sure the blade does not move out of position. Carefully slide the sleeve back into the shank of the razor. Use the clear sleeve for standard (short) double edge blades and the black sleeve for the long blades.
Free Australia wide delivery on order over $30
The Dovo Solingen Shavette Straight Razor Stainless Steel Handle is the product you didn't think you need, but once you have it, something you won't want to live without.

Inventory Last Updated: Dec 09, 2023