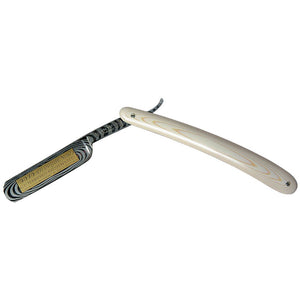 title="Dovo Solingen Micarta Ivory Straight Razor 5/8" - Ozbarber">
This DOVO Solingen Micarta Ivory Straight Razor features an ice-tempered stainless steel blade, 5/8″ blade depth and is full hollow ground. This expensive process leads to a blade that retains its edge for a very long time and requires less maintenance. The blade is exceptionally sharp with the perfect levels of hardness and ease of sharpening. Along the blade is an etched pattern and 24-karat gold hallmark. The handle is made from Micarta which is perfect for handles – extremely hard and durable.
Benefits:
Full hollow ground blade edge very finely cuts facial hair

Ice-tempered stainless steel blade stays sharp longer and resists rusting

Micarta handle is very high quality, extremely hard wearing and beautiful to look at
Features:
Blade Depth 5/8″

Full Hollow Ground

Ice-Tempered Stainless Steel Blade

Micarta Ivory Coloured Handle

Intricate Ripple Blade Etchings

24 Karat Gold Details
Made in Solingen, Germany.
For over one hundred years, DOVO has been crafting exceptional tools. Their expert craftsmen meticulously finish each piece so you have a blade that will last a lifetime.
Free Australia wide delivery on order over $30
Every product is unique, just like you. If you're looking for a product that fits the mold of your life, the Dovo Solingen Micarta Ivory Straight Razor 5/8" is for you.

Inventory Last Updated: Dec 06, 2023