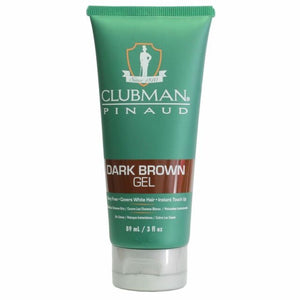 title="Clubman Pinaud Temporary Hair Colour Dark Brown Gel 85g">
Clubman Temporary Dark Brown Gel 3oz - 85g
Gray Free / Covers White Hair / Instant Tough Up. Works on you beard and hair with perfect results. From blending to total coverage, Clubman's special conditioners and styling ingredients spread smoothly and evenly with no product build-up. Easy-to-use and easy to remove, this temporary color styler is the answer to instant gray and white coverage in one easy step.
• Instant temporary touch up to cover gray and white hair. This unique formulations creates true to tone temporary color shading without creating off tones of green or red. • All textures

• Gel like base uses special polymers for easy spreadability. Color intensity varies by amount of product used.
• Light to medium flexible hold. Conditioning ingredients help keep hair nourished and healthy. No flaking.
Free Australia wide delivery on order over $30
The Clubman Pinaud Temporary Hair Colour Dark Brown Gel 85g is a sensational customer favorite, and we hope you like it just as much.

Inventory Last Updated: Dec 06, 2023