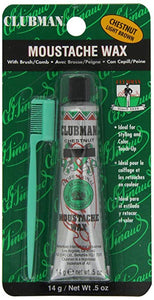 title="Clubman Chestnut Moustache Wax 0.5oz - Ozbarber">
Clubman Moustache Wax is the industry standard by which other wax is judged. Add some color or just keep that prized 'stache in place.
Ideal for moustache styling and color touch up...

Includes applicator comb/brush...
Clubman Moustache Wax comes in four colors: Neutral (dries clear), Black, Brown and Chestnut.
0.5 oz
Free Australia wide delivery on order over $30
The Clubman Chestnut Moustache Wax 0.5oz was built with people like you in mind. Something to keep you happy. Every. Single. Day.

Inventory Last Updated: Dec 09, 2023