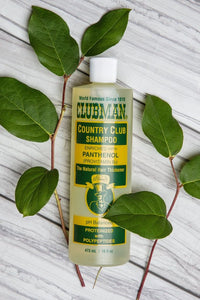 title="Clubman Country Club Shampoo 16oz">
Only the very best ingredients are used in Clubman Country Club Shampoo to guarantee hair that is soft, shiny, healthy and full of body. Superior ingredients that foam instantly, cleanse gently and rinse off completely yet leave the hair at its optimal level of condition and shine. Clubman Country Club Shampoo is a unique shampoo experience created for the active man.
This natural formula is designed to cleanse hair, while maintaining your natural body and volume. This PH balanced cleanser is enriched with panthenol (provitamin Bs) to allow more frequent use without drying out hair.
473 ml / 16 fl oz bottle

Free Australia wide delivery on order over $30
Every product is unique, just like you. If you're looking for a product that fits the mold of your life, the Clubman Country Club Shampoo 16oz is for you.

Inventory Last Updated: Dec 06, 2023