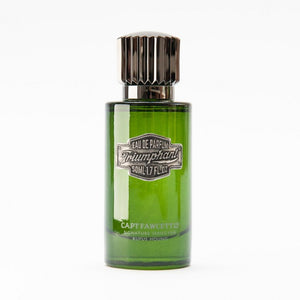 title="CAPTAIN FAWCETT'S TRIUMPHANT EAU DE PARFUM BY RUFUS HOUND - Ozbarber">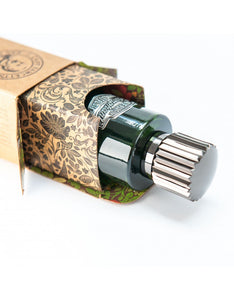 title="CAPTAIN FAWCETT'S TRIUMPHANT EAU DE PARFUM BY RUFUS HOUND - Ozbarber">
title="CAPTAIN FAWCETT'S TRIUMPHANT EAU DE PARFUM BY RUFUS HOUND - Ozbarber">
Captain Fawcett's Triumphant collaboration with actor, comedian & all round good egg Rufus Hound has resulted in a rather splendid Eau De Parfum. A delightful fragrance somewhat reminiscent of the balmy days of Spring; olfactory rural stimuli reaped whilst riding his beloved motorcycle thru England's green & pleasant countryside.
A heady perfume boasting top notes of Bergamot, Lime & Ylang, mid notes of Blackcurrant, Clove & Galbanum supported by the earthier base notes of Sandalwood, Ambergris & Musk.
In truth this is simply a delightful alchemic concoction and as such I would wager this to be one of Fawcett's finest... Huzzah!
50ml 1.7floz
A few words from Rufus...
When I was 19, I took a full time job. No-one took me seriously, for I was a boy. So I grew a beautiful blonde bouche bristler, and - now, undeniably, a man - never looked back.
Every member of the fuzzy faced fraternity has had some similar anti-epilatory epiphany, but taming a fella's firework of follicular fuss has, more often than not, been more luck than judgement.
It was whilst I was sporting a particularly lush 'English handlebar' that I first encountered the Captain and his melange of magical moustache managers. The array of oils, waxes and parfums were never far from my washbag or my whiskers.
With the success of the Rikki Hall signature series (Booze and Baccy - an absolute delight), The Captain wondered if I too might be tempted to craft a similarly specifically scented stache soother to our bearded brethren. He asked, in short, what my favourite smell was.
My answer was immediate.
I ride a Triumph motorcycle in an open face helmet. On those glorious and, yes sadly, rare days of our national summer, to be on a British bike, riding through the twisty, turny B roads of the British countryside is an exceptional treat. Yes, there's the speed, the control, the thrum (oh, the thrum!) but riding in an open face helmet also gives you a panorama, the breeze and the smell. Whizzing through little villages on a bike designed to do just that is heavenly. The combination of sunshine, flowers and williwaw arrives olfactorily but manifests spiritually. If there was one smell, I wish there more of in the world, that's it.
"Yes," said The Captain "I think we should be able to do that."... So we did.
The smell was first offered in a moustache wax, but proved so popular that we have buckled to the demands of the shaved and made an eau de parfum. I have been wearing it for the last few months and have never been purloined by so many admiring sniffers - male and female! - desperate to know of what I smelt and where they too could purchase it.
Truth be told, in a world where Justin Beiber and Nikki Minaj put out 'Celebrity Fragrances', this feels as insane to me as it does to you; but look around. The world is going mad. If we're all going to go mad with it, we can at least do so smelling incredible. Smelling indefatigable. Smelling Triumphant.
 Note: we cannot send fragrances/aftershaves internationally
Free Australia wide delivery on order over $30
The Captain Fawcett's Triumphant Eau De Parfum By Rufus Hound is the product you didn't think you need, but once you have it, something you won't want to live without.

Inventory Last Updated: Dec 06, 2023