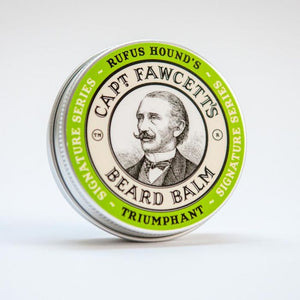 title="CAPTAIN FAWCETT'S RUFUS HOUND'S TRIUMPHANT BEARD BALM - Ozbarber">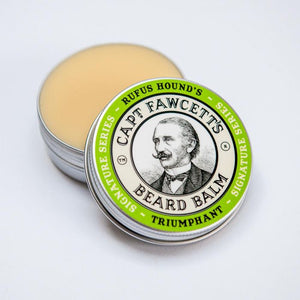 title="CAPTAIN FAWCETT'S RUFUS HOUND'S TRIUMPHANT BEARD BALM - Ozbarber">
Captain Fawcett's Triumphant collaboration with actor, comedian & all round good egg Rufus Hound has resulted in a rather splendid Beard Balm. A delightful fragrance somewhat reminiscent of the balmy days of Spring; olfactory rural stimuli reaped whilst riding his beloved motorcycle thru England's green & pleasant countryside.

A heady perfume boasting top notes of Bergamot, Lime & Ylang, mid notes of Blackcurrant, Clove & Galbanum supported by the earthier base notes of Sandalwood, Ambergris & Musk.

In truth this is simply a delightful alchemic concoction and as such I would wager this to be one of Fawcett's finest... Huzzah!

Instructions:
Ideally apply to your damp or dry, clean beard.
Using the back of your thumbnail extract a small portion of balm & warm by rubbing in the palms of your hands.
Proceed to work the balm into the length of your beard, then comb or brush through for maximum hold, resulting in a tamed well nourished beard, that is easier to both shape & style.
All hail the hirsute.
Supplied in an aluminium tin with a screw top lid.
60ml 2 fl oz
Free Australia wide delivery on order over $30
The Captain Fawcett's Rufus Hound's Triumphant Beard Balm is far and away, one of our most popular items. People can't seem to get enough of it.

Inventory Last Updated: Sep 25, 2023