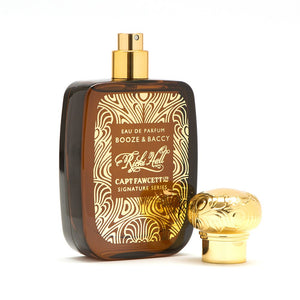 title="Captain Fawcett's Booze & Baccy Eau De Parfum 50ml - Ozbarber">
Captain Fawcett is delighted to have collaborated with the World renowned Dandy & Gentleman about town Mr Ricki Hall in concocting this delectable bespoke Eau De Parfum. Top notes of bay rum, zesty orange & bergamot combine with luxuriant base notes of honeyed fresh tobacco leaves, dusty aromatic frankincense, maple-like benzoin & warm exotic vanilla bean & layered with mid notes of fresh galbanum, white thyme & coriander. A most welcome edition to The Captain's Signature Series.
A few words from Ricki...
"I was thinking about what men were like when I was a kid, strong blokes who didn't apologise for being masculine. I wanted to bring that back – the smell of being an adult in the 70s and 80s – booze, cigarettes, leather, aftershave, pub – it's a bit of time travel. This sort of man, he's pulling up in a Ford Capri, leather jacket, hairy chest in an open shirt with a gold chain. Pint in his hand, pack of Bensons, laid back and smart with an eye for the ladies and a reckless streak but honourable you know – a proper gentleman, cocksure but a real charmer – everyone wants to be around him but a look in his eye means you wouldn't cross him. It's a real intense male scent – assertive, potent, the kind worn by a man with a score to settle, but only once he's finished his pint". Ricki Hall.
Note: we cannot send fragrances/aftershaves internationally
Free Australia wide delivery on order over $30
Life is too short to live without the Captain Fawcett's Booze & Baccy Eau De Parfum 50ml. Be happy. Be Content. Be Satisfied.

Inventory Last Updated: Dec 09, 2023