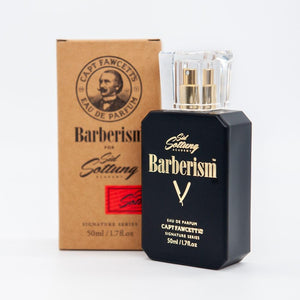 title="CAPTAIN FAWCETT'S BARBERISM EAU DE PARFUM BY SID SOTTUNG - Ozbarber">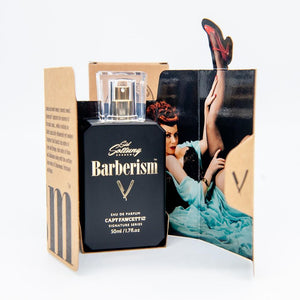 title="CAPTAIN FAWCETT'S BARBERISM EAU DE PARFUM BY SID SOTTUNG - Ozbarber">
Captain Fawcett's collaboration with Sid Sottung has produced a most outstanding Eau De Parfum offering a timeless & yet refreshingly elegant scent boasting top notes of Lime & Orange, mid notes of Rose & Galbanum along with the earthier base notes of Cedarwood, Patchouli & Musk. 

In truth, a simply delightful alchemic concoction has been created for your delectation. .... Huzzah!
IMPORTANT MESSAGE FOR ALL CHUMS OUTSIDE AUSTRALIA.
Unfortunately 'Eau De Parfum' is categorised by Postal and Courier services as hazardous material and is subject to 'Dangerous Goods' legislation and shipping requirements. As such you will need to source Sid Sottung 'Barberism' fragrance from your local Captain Fawcett bricks and mortar outlet.
50ml 1.7floz
THE STORY OF BARBERISM...

Captain Fawcett is extremely delighted to have collaborated with Sid Sottung to bring you Barberism™ an exclusive range of male grooming products that sets a new standard in the world of cutting edge barbering.

Sid Sottung was brought up in New York City and at an early age apprenticed to a traditional Italian Barbers in Brooklyn before moving on to work with Vidal Sassoon in downtown Manhattan.

Barberism's overriding influences are to be found amongst Sid's personal recollections of a largely forgotten era: These include fond memories of his beloved father Ronald who worked on Hellcat's at the Grumman Airplane factory based on Long Island New York.

The pin-up girl representing the sweetheart left at home emblazoned on the nose of many American aircraft doomed never to return from their fateful missions. The age of prohibition and the speakeasies run by sharp suited, often ruthless mobsters dressed to kill.

The fragrant masculine aromas of the old school barbershop, the hair tonics, aftershaves and grease based pomades mingled with tobacco smoke and work weary, honest sweat. Barberism™ captures the essence of the man's man... while creating an albeit classically influenced yet modern fragrance that boasts top notes of Lime and Orange, mid notes of Rose and Galbanum along with the earthier base notes of Cedarwood, Patchouli and Musk.
Free Australia wide delivery on order over $30
Life is too short to live without the Captain Fawcett's Barberism Eau De Parfume by Sid Sottung. Be happy. Be Content. Be Satisfied.

Inventory Last Updated: Oct 03, 2023