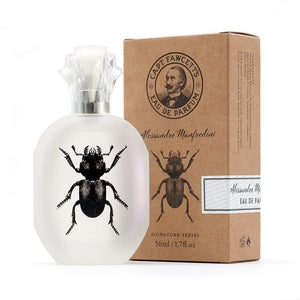 title="Captain Fawcett's Alessandro Manfredini Eau De Parfum - 50ml">
Captain Fawcett's collaboration with Alessandro Manfredini has created an Eau de Parfum rich with memory. A most seductive Signature Series scent evocative of Italy's capricious seasons. Woody spiced top notes of rosemary & star anise combine with mid notes of fresh green cyclamen on a bed of mineral ambergris, calming cedarwood & sun toasted tonka. In truth, a simply magnificent alchemic fragrance has been created for your delectation.
When the Captain made the acquaintance of Alessandro Manfredini he recognised a kindred spirit. Signor Manfredini is a gentleman of ageless elegance and style, a sculptor and graphic artist of most distinctive silver-bearded appearance. Yet Alessandro is also a survivor, a man who fought to rebuild his spirit when an earthquake destroyed his dreams. The iridescent beetle, beloved from childhood, became his talisman. The Captain became his friend.
Evviva!
50ml 1.7floz
Free Australia wide delivery on order over $30
Imagine if you could be satisfied and content with your purchase. That can very much be your reality with the Captain Fawcett's Alessandro Manfredini Eau De Parfum - 50ml.

Inventory Last Updated: Dec 09, 2023