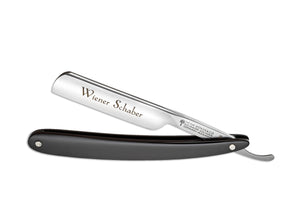 title="BOKER WIENER SCHABER CUT THROAT RAZOR - Ozbarber">
The German name Wiener Schaber can be translated with Vienna Scraper. It is a special Straight Razor shape which usually comes as a 4/8" blade and which thrills with its especially elegant and flowing lines. Already in the men's salons of the first half of the 20th century, it was mainly used to touch up contours after the actual shave.
The comparatively short blade with French Point is characteristic for it and the cutting edge merges into the tang in a gentle curve, giving the Wiener Schaber its very own appearance. The particularly narrow blade is hollowed and ground to sound in many elaborate steps. Including certificate of authenticity and historical packaging.
Type:

Straight Razor

Blade Width:

4/8

Blade Material:

Carbon Steel

Handle Material:

Synthetic

Point:

French Point

Color:

Black
Free Australia wide delivery on order over $30
On the fence about this Boker Wiener Schaber Cut Throat Razor? Don't be. Let our satisfaction guarantee address your concerns.

Inventory Last Updated: Dec 09, 2023