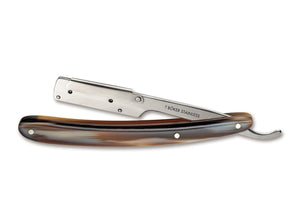 title="Boker Pro Barberette Horn Straight Razor">
Along with the established Boker Barberettes with a plastic blade receptacle that we already offer, many barbers have been asking for a straight razor knife with a stainless steel receptacle. The receptacle of the Boker Pro Barberettes is designed to accommodate a half Double Edge (43 mm standard blade) and hold it securely between the two stainless steel parts. This system has been used by professional barbers and hairdressers for many years before we optimized it.

The geometry and size of the Boker Pro Barberette follows that of the premium-quality forged straight razors made by the Boker Manufactory Solingen. The bottom of the tang has a fine serration, offering a secure grip even when wet. In order to improve opening the two blade halves, the round point is tapered inward on both sides. When the clamp is removed, the two halves can be easily pushed against each other by means of the round point. Precise riveting and superior craftsmanship ensure precise function and a long life even with heavy use.

The Boker Pro Barberette combines professional functionality, a familiar grip and balance and the authentic aesthetics of a classic straight razor. If you are just starting out, it is an alternative to a forged straight razor at a lower price point. Before inserting, the double blades need to be carefully broken in half. Comes with historic packaging and a double-edged blade. The vibrant and varied colors of the extremely realistic artificial horn combines the easy maintenance and durability of a man-made material with the look of a natural material.
Free Australia wide delivery on order over $30
The Boker Pro Barberette Horn Straight Razor was built with people like you in mind. Something to keep you happy. Every. Single. Day.

Inventory Last Updated: Sep 25, 2023