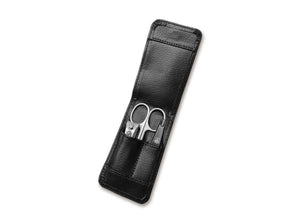 title="BOKER MANICURE SET BASIC M - Ozbarber">
Three-piece set with nail scissors, a large nail clipper and nail file.

Until recently, the wide world of nail care was new territory for many men who didn't take it seriously at all. However, ever since women have come to appreciate not just biceps and six-pack abs but also carefully groomed nails, it is no wonder that modern men are coming around to making grooming a priority. More and more barber shops are offering nail care, because well-groomed nails speak to healthy self-confidence. Just like a classic wet shave, a proper manicure depends on high-quality tools.

The exclusive Manicure Sets by Boker Arbolito meet the quality standard, offering the right tools for shortening and shaping fingernails, for removing excess cuticles, cleaning under the nail and polishing. The kit is made from fine cowhide, keeping the premium tools safe and protected even for frequent travelers. All manicure tools are made from stainless steel with an elegant matt surface finish.
Free Australia wide delivery on order over $30
The Boker Manicure Set Basic M is far and away, one of our most popular items. People can't seem to get enough of it.

Inventory Last Updated: Dec 08, 2023