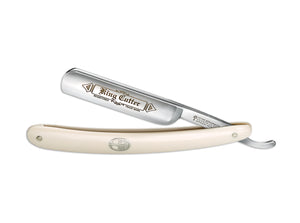 title="BOKER KING CUTTER WHITE CUT THROAT RAZOR - Ozbarber">
The King Cutter guarantees a royal start into the day. The absolute classic in the Boker program makes men's hearts skip a beat. The King Cutter has been a firm component of the Boker Straight Razor program since the start of the 20th century. With its practical 5/8" blade, it is the ideal knife for every morning, easy to use, and provides a very good shave even for inexperienced users. The non-stainless blade is made from best Solingen Straight Razor steel and easily handles everyday shaving. The blade is made by hand with an extra-hollow grind with belly. Inclusive authentic Boker stamp in blade. Delivered in historic packaging and certificate of authenticity.

The handle scales with nickel silver-inlay in the shape of the historic Boker tree consist of moisture-resistant, white synthetic, whose ebony-like look ensure an exclusive appearance. The tang of the blue-ground blade in the historic design is serrated on both sides for a pleasant grip during the shave.
Type:

Straight Razor

Blade Width:

5/8

Blade Material:

Carbon Steel

Handle Material:

Synthetic

Point:

Round Point

Color:

White
Free Australia wide delivery on order over $30
The Boker King Cutter White Cut Throat Razor is a sensational customer favorite, and we hope you like it just as much.

Inventory Last Updated: Dec 06, 2023