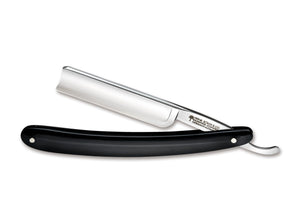 title="BOKER CLASSIC BLACK SPANISH HEAD CUT THROAT RAZOR - Ozbarber">
This entry-level model bridges the gap between affordable pricing and our very high quality standards, which cannot be compromised. The result is a straight razor with outstanding value for the money. The Spanish head combines the advantages of a 5/8" blade with the accuracy of a slimmer blade and is particularly suited for accurately trimming contour lines.
The blade is made from carbon steel (high edge-holding, non-stainless) and has a pronounced hollow grind with wall. The handle scales are crafted from moisture-resistant, charcoal-colored specialty-plastics. Fully handcrafted in the Solingen-based Boker knife manufactory. Includes authentic Boker embossing on the blade joint. Shipped with authenticity certificate and in historical packaging.
Type:

Straight Razor

Blade Width:

5/8

Blade Material:

Carbon Steel

Handle Material:

Synthetic

Point:

Spanish Point

Color:

Black
Free Australia wide delivery on order over $30
The Boker Classic Black Spanish Head Cut Throat Razor is far and away, one of our most popular items. People can't seem to get enough of it.

Inventory Last Updated: Dec 09, 2023