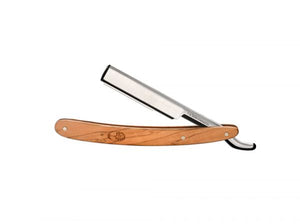 title="Boker Barberette Olive Straight Razor - Ozbarber">
The Boker Barberette stylishly unifies the benefits of a forged Straight Razor with those of a safety razor. The handling is comparable to that of a Straight Razor, but there is no need to clean and strop it, since the replaceable razors can simply be changed. The completely newly designed Boker Straight Razor knife is not only very popular among wet shaving lovers, travelers, and professional barbers and hair dressers, but can also be found in bathrooms at home as low-maintenance and comfortable, versatile companion. Especially barbers like to use the uncomplicated replaceable blades in hectic business operations due to hygiene regulations, instead of disinfecting Straight Razors the traditional way. The Boker Straight Razor knife has the same geometry and size of our forged Straight Razors. Thanks to the grooved synthetic surface, it provides a safe grip for fingers at any time.
The blade receptacle is made from stainless steel and moisture-resistant synthetic and is designed to permit the use of both the ubiquitous 43 mm standard blades for classic safety razors (double edge) and the 65 mm long standard blades. Before inserting, double edge razors are carefully broken in the middle.

The handles of the Straight Razor knife follow that of forged Straight Razors made by the Boker Manufactory and leave nothing to be desired. You have the choice between moisture-resistant synthetic with nickel silver-inlay, hand-picked olive wood with contrasting grain and elaborate ornamentation, or real stag with decorative stud. The Boker Barberette combines professional practicality with the usual handling and balance and authentic aesthetics of a classic Straight Razor. In addition, it provides a price alternative to forged Straight Razors for beginners. Delivered in historic packaging with double-edged razor.

The scales made from olive wood give the Boker Straight Razor knife its special accent and lively grain. This model is refined with the classic Boker tree symbol which is delicately inserted into the wooden handle. The blade receptacle is suitable for standard blades with 43 mm and 65 mm width.

Due to the use of natural materials, the different specimens partly deviate from each other.
| | |
| --- | --- |
| Type: | Razor Blade Holder |
| Blade Material: | Stainless Steel |
| Handle Material: | Olive Wood |
| Color: | Brown |
Free Australia wide delivery on order over $30
The Boker Barberette Olive Straight Razor is far and away, one of our most popular items. People can't seem to get enough of it.

Inventory Last Updated: Dec 09, 2023