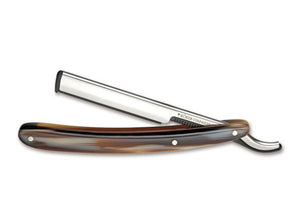 title="Boker Barberette Horn Straight Razor - Ozbarber">
The Boker Barberette stylishly combines the advantages of a forged razor and a safety razor. It handles like a straight razor but doesn't need any cleaning or stropping, since the exchangeable blades can simply be replaced. The Boker Barberette is very popular with novice wet shavers, travelers and professional barbers and hairdressers alike. It is also a low-maintenance, comfortable shaving option for home use.

The Boker Barberette exactly follows the geometry and size of our forged straight razors. Thanks to the fluted plastic plate, they offer a firm grip for the fingers. The blade holder consists of stainless steel and moisture-resistant plastic, designed to fit the 43 mm standard blades for classic double-edged safety razors as well as the 65 mm standard blade. Comes with historic packaging and a double-edged blade.

Just like the straight razors made by Boker Manufactory Solingen, this version of the Boker Barberette has artificial horn handles. The varied patterning is almost indistinguishable from the natural material, ranging in color from white to brown and dark brown.
| | |
| --- | --- |
| Type: | Razor Blade Holder |
| Blade Material: | Stainless Steel |
| Handle Material: | Synthetic Horn |
| Color: | Brown |
Free Australia wide delivery on order over $30

The Boker Barberette Horn Straight Razor is the product you didn't think you need, but once you have it, something you won't want to live without.

Inventory Last Updated: Dec 09, 2023