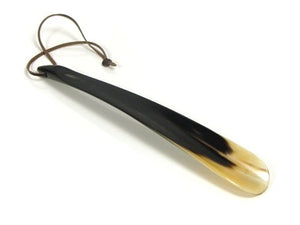 title="Abbeyhorn 14 Inch Small Tip End Horn Shoehorn">
If you wear a lot of leather shoes, chances are you use a shoe horn every day. And it's probably also the first thing you forget when packing your suitcase. Our travel shoe horn is something that will never be forgotten.
Crafted by Abbeyhorn of Carnforth, England, the shoe horns are as handsome as they are useful. Made with polished natural horn and engraved with Abbeyhorn logo, the unique marbling ensures that each piece is strikingly unique. With its distinctive horn tip end, our 14" shoe horn makes an excellent permanent addition to a modern gentleman's dressing routine.
Size: 356mm
Please note - All Abbeyhorn products are handmade from natural materials, leading to each product having a unique color and pattern. 
This product comes in an Abbeyhorn gift box.
All the cow horn products are natural so the colour might be a bit different with the photos.
Free Australia wide delivery on order over $30
The Abbeyhorn 14 Inch Small Tip End Horn Shoehorn is evocative, to say the least, but that's why you're drawn to it in the first place.

Inventory Last Updated: Sep 25, 2023