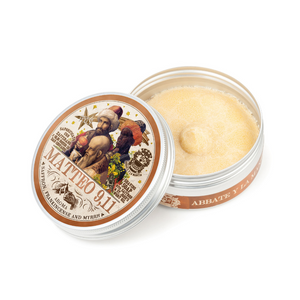 title="Abbate Y La Mantia Matteo 9,11 Shaving Soap">
title="Abbate Y La Mantia Matteo 9,11 Shaving Soap">
This soap is a message of peace.
Our own saffron pistils have been saponified together with one of the oldest cosmetics of the world: Saint John's Wort oleolite.
This ingredient, yesterday and today, is harvested on St. John's night in order to exploit its effectiveness as a disease-prevention agent as much as possible: an exceptional antibacterial and an irreplaceable anti-fungal.
Its combination with saffron is designed to protect you from the possible bacterial load of the razor.
The Hypericum was called the "the witches' plant" precisely because of its inexplicable, and therefore "magic", healing properties.
OLFACTORY: stalls of crunchy sweets and pots of spiced wine. Enter a church where the choir is singing, while outside the night is coming.
SENSUAL: obtaining a well-stretched and hydrated skin while the temples collapse into a pleasant state of relaxation
ACTIVE:
– antiseptic (prevents or slows down the development of microbes);
– stimulating (strengthens and activates the nervous and vascular system);
– febrifuge (lowers the post-razor body temperature).
Elegant box in fine kraft; tied by hand with a string and closed with a Venetian beeswax seal.
Made in Italy is proved by the tricolor bow in natural cotton.
Capacity: 150g/5,0 fl.oz
Free Australia wide delivery on order over $30
The Abbate Y La Mantia Matteo 9,11 Shaving Soap is the yin, to your yang. You've found what you're looking for.

Inventory Last Updated: Oct 03, 2023