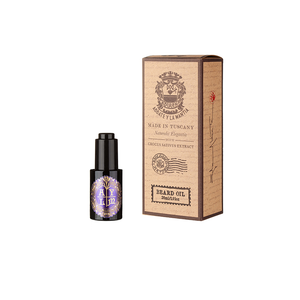 title="Abbate Y La Mantia Krokos Beard Oil">
Designed to solve every problem of those who have to cure their beard: – it nourishes the hair, softening it and keeping it healthy; – it helps a consistent beard growth; and – doesn't stain with oil, but secures the shape.
FRAGRANCE: not invasive perfume of saffron, that makes an application possible in every toilette session, regardless of the other products that have been used and of their fragrance. "The difference between a good beard and a shabby one stands in caring"
SPECIAL BOTTLE: We designed an unusual bottle: a double glass bottle with ANTI-UV license
This is because our essences deserve to be protected without affecting their perfect balance.
Our products are not usual products.
Capacity: 30ml / 1,01oz
Free Australia wide delivery on order over $30
The Abbate Y La Mantia Krokos Beard Oil is the yin, to your yang. You've found what you're looking for.

Inventory Last Updated: Sep 25, 2023