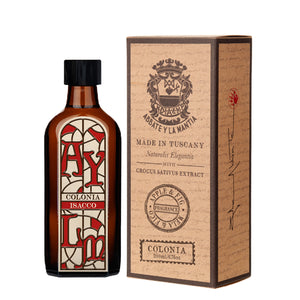 title="Abbate Y La Mantia Isacco Cologne">
The traditional perfume is a perfumed water that doesn't need to be used as a fragrance trail but as an end of treatment on the body, hair or clothes.
All this is possible thanks to ultra gentle vegetable alcohol, the hypoallergenic fragrance and the 200ml format that make this price a bargain.
Not a spray but with a dispenser in order to use it as a real splash.
In this case: GREEN APPLE AND BLACK FIG
Top notes (the most immediate and volatile ones): All the fruit that gives its best in its unripe phase: an apple, a grape in spring, a coconut in the cold season, the leaves of the pineapple, the white parts of the strawberry, the stalk of the banana and the peel of the peach.
Middle notes (slower, but they last longer): In order to love the fruity and volatile parts you need an acidic flowery heart. A wall of roses, jasmines, lilies of the valley and hawthorns studded with closed gardenia flowers.
Base notes (those who support and connect all the others): This Garden of Eden is completed by the woodiness of the branches and the action of the green musks that make everything more durable and fresh.
Amber glass bottle to protect every note of the fragrance.
Embossed "Cathedral vetrage" label
Capacity: 200ml/6,76 fl. oz
Free Australia wide delivery on order over $30
The Abbate Y La Mantia Isacco Cologne is the yin, to your yang. You've found what you're looking for.

Inventory Last Updated: Sep 25, 2023