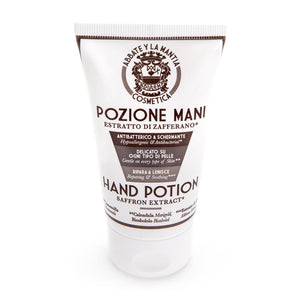 title="Abbate Y La Mantia Hand Potion">
The 'magic' formula consists of three powerful ingredients.
An antibacterial screen thanks to the  cosmetic active ingredients of Saffron Pistils (made in Tuscany and protected by us year after year).
The medicinal effects of the DNA of Althaea extract; a very famous plant in medieval medicine for the treatment of skins that are irritated by environmental and atmospheric agents or that show external imperfections of the hands.
Saffron and Althaea act powerfully.
This cream can be used on every kind of skin, even the most sensitive ones, implementing the three fundamental elements of children's cosmetics; Chamomile, Marigold and Bisabolol.
75ml
Free Australia wide delivery on order over $30
The Abbate Y La Mantia Hand Potion is the product you didn't think you need, but once you have it, something you won't want to live without.

Inventory Last Updated: Sep 25, 2023