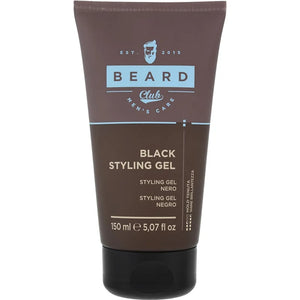 title="Beard Club Black Styling Gel 150ml">
Modeling hair gel for extra shine, enriched with ingredients that cover white or grey hair with a natural black tone. Provides shine and radiance to matted hair with a sculpted hair finish.
Infused with black carbon which provides numerous benefits for all hair types. Carbon's detoxifying and purifying properties work to keep the hair protected all day. Impurities and build-up of oil and debris are drawn out from the hair to keep locks looking and feeling fresh and healthy. Ideal for naturally oily hair types as it helps control oil production and absorbs excess oil, enhancing all styles.
Black carbon imparts subtle dark colour to the hair. Transforms styles and overall looks in a discreet manner. The colour's reflective and gentle composition means that no one will be able to tell it is artificial colour. Enhances the colour and shine of grey and white hair as the carbon masks unwanted yellow and brass tones. The colour, with the gel's shiny finish, creates amazing styles. Delivers incredible shine and colour is easy to control as it washes out with shampoo. Does not contain alcohol and will not leave any residue or stain clothes or pillow cases.
The Beard Club Black Styling Gel 150ml is a sensational customer favorite, and we hope you like it just as much.

Inventory Last Updated: Sep 25, 2023