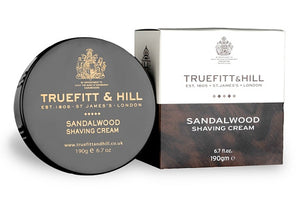 title="TRUEFITT & HILL SANDALWOOD SHAVING CREAM BOWL, 190G - Ozbarber">
Truefitt & Hill Sandalwood Shaving Cream is lightly scented with a hint of masculine sandalwood. Creates a rich, moisture-intense glide barrier that softens the heaviest of beards for a truly enjoyable shave. Best used with a shaving brush. Also available in a smaller 75g tube which is great for travel. Made in England.
RECOMMENDED FOR
Wet Shaving, Preventing Razor Burn, Preventing Ingrown Hairs, Preventing Razor Bumps, Dry Skin, Normal Skin, Oily Skin, Combination Skin, Sensitive Skin.
Free Australia wide delivery on order over $30
The Truefitt & Hill Sandalwood Shaving Cream Bowl 190g destined to impress, and priced at only
$55.00
, for a limited time.
Inventory Last Updated: Oct 03, 2023