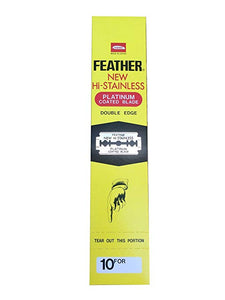 title="Feather Hi-Stainless Double Edge Blade (200) - Ozbarber">
10/10 sharpness

Moderate comfort

Better than average longevity

One of the sharpest blades on the market

Platinum coated

Ideal for more experienced users

20x 10 blade packs
Made in Japan, the Feather Hi-Stainless Double edge blade has a reputation as one of the sharpest on the market today, with an amazing performance of between 5-10 shaves off a single double edge blade! It's also the most popular we carry.
Compatible with: All double edge razors
Free Australia wide delivery on order over $30
The Feather Hi-Stainless Double Edge Blade (200) destined to impress, and priced at only
$69.00
, for a limited time.
Inventory Last Updated: Sep 25, 2023